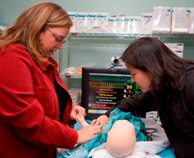 WANTED: Clinicians for long-term relationship to lead unit and department safety efforts. Must be passionate about improving patient outcomes and value, have skills needed to lead these efforts, and enjoy working as part of a team.
Dr. Martin Luther King, Jr., in pushing the civil rights agenda, spoke of the "fierce urgency of now." Recent news reports highlight the fierce urgency of now in health care. The U.S leads the developed world in preventable deaths, as preventable harm continues unabated, insurance premiums have increased 9 percent while GDP remains flat, and investments in health care are crowding out investments in other important areas such as K-12 education. The fierce urgency to improve health care value not only impacts patients and health care providers, but all of society.
There are two main reasons why progress in improving safety and quality has been slow and difficult. The first is the field has largely run away from science, seeking quick fixes rather than deep understanding, focusing on what we do rather than the results we produce. The second reason is that health care lacks the capacity (infrastructure with skilled people) to improve quality and value. Because we have treated patient safety and quality as a project rather than a way of life, we have failed to create the necessary infrastructure to support the needed quality efforts.
If we are to improve quality, we will need to create an infrastructure to support patient safety. It is not surprising that most of the published literature in quality and safety comes from units (such as intensive-care units) that have dedicated physician and nurse leaders; there is someone in place to closely manage the work. Research and experience shows that units with dedicated physician leaders have lower costs, higher quality and better patient satisfaction.
Read More »ISO clinician leaders in patient safety and quality