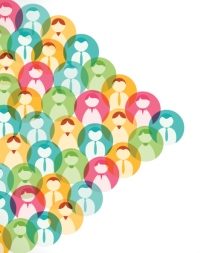 The doughnut shop I pass on my drive to the hospital isn't the kind of place where you might expect to see outpourings of random kindness. It sits in the shadow of a raised highway, a few doors down from a bail bond business and a block away from a prison complex that resembles a medieval castle. One Sunday before Valentine's Day, the line to get served there was long, checkered with homeless people—some of whom sleep under the highway to stay dry and protected from the wind—and more well-off people getting breakfast or bringing bagels or doughnuts to work or church.
A homeless couple stood ahead of me. Their clothes and hair were dirty, and the undersides of their fingernails were caked in dirt, as if they had just come in from gardening without gloves. They appeared very much in love—standing close, gently touching and smiling. She wanted a heart-shaped doughnut, and he wanted the same. They reached deep into every pocket counting their change, hoping to find enough.
They were a nickel short. Sheepishly, they turned to me and asked for help. I had a feeling of injustice: Here I was bringing doughnuts to doctors, nurses and staff who did not need them, yet this couple would not have breakfast without help. Not wanting to shame them, I softly told them that they could order whatever they wanted and that I would be happy to buy them breakfast.
When they ordered, the cashier looked at them judgmentally. Perhaps she had been stiffed before, or maybe she knew they did not have the money. The woman spoke up, stating that I had offered to pay. The cashier looked at me and I nodded.
That is when the cascade started. "What a great idea," said a woman behind me, who was picking up doughnuts for Sunday school. She offered to buy breakfast for the homeless person next to her. The nurse behind her did the same, as did the police officer further back. The nurse and Sunday school teacher discussed how they were going to come back the following Sunday to do this again.
I was also moved by their generosity and handed the homeless couple more money to cover lunch and dinner and perhaps pay for a stay at a shelter. They wept, and I sat down at the table with them. They spoke excellent English, as if they had graduated college or higher. The man explained how they never intended to be that way. They hit some "rough patches" and made a couple bad decisions, he said. "We are something," the woman told me. I told them that I believed them. My only request, I said, is that when they got back on their feet, they "pay it forward" to someone in need.
For weeks, I reflected on that day not quite understanding what exactly had happened. Then I read a New York Times article on the science of paying it forward. Cornell University sociologists Milena Tsvetkova and Michael Macy explained how we are much more likely to perform a kind act when we experience or witness one. Experiencing a small kindness is more potent than observing one, though in the case of the doughnut shop, observing proved a potent pill. They describe how chains like I observed are not rare at all. At a drive-through coffee shop in Manitoba, Canada, one customer paid for the person behind them, and the chain progressed to 226 people. At a Chick-Fil-A drive-through, there was a 67-customer cascade after one generous customer paid for the person next in line.Read More »The Ripple Effect