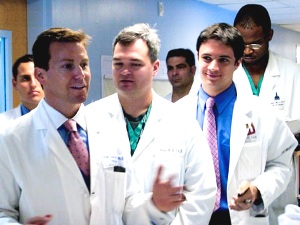 I recently cared for Ms. K, an elderly black woman who had been sitting in the intensive care unit for more than a month. She was, frail, weak and intermittently delirious, with a hopeful smile. She had a big problem: She had undergone an esophagectomy at an outside hospital and suffered a horrible complication, leading her to be transferred to The Johns Hopkins Hospital. Ms. K had a large hole in her posterior trachea, far too large to directly fix, extending from her vocal cords to where her trachea splits into right and left bronchus. She had a trachea tube so she can breathe, and her esophagus was tied off high in her throat so oral secretions containing bacteria did not fall through the hole and infect her heart and lungs. It is unclear if she will survive, and the costs of her medical care will be in the millions.
Ms K's complication is tragic—and largely preventable. For the type of surgery she had, there is a strong volume-outcome relationship: Those hospitals that perform more than 12 cases a year have significantly lower mortality. This finding, based on significant research, is made transparent by the Leapfrog Group and several insurers, who use a performance measure that combines the number of cases performed with the mortality rate. Hopkins Hospital performs more than 100 of these procedures a year, and across town, the University of Maryland tallies about 60. The hospital where Ms. K had her surgery did one last year. One. While the exact relationship between volume and outcome is imprecise, it is no wonder she had a complication.
Ms. K is not alone. Of the 45 Maryland hospitals that perform this surgery, 56 percent had fewer than 12 cases last year and 38 percent had fewer than six.
One day, after the ICU team—nurses, medical students, residents, critical care fellows and the attending—made rounds on Ms. K, we stepped outside of her room. We talked about what we could do to help get her well and to a lower level of care. But we also discussed the evidence for the volume-outcome relationship, highlighting that the hospital that performed Ms. K's operation performed one in the previous year. Upon hearing this, the medical students cringed, quizzically looking at each other as if observing a violent act. The residents and fellows, the more experienced clinicians, stood expressionless; they commonly see this type of tragedy.Read More »See one, do one, harm one?