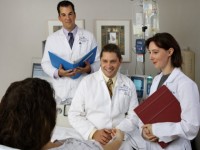 "I have a complicated medical situation that involves neurologists, surgeons, obstetricians, specialized ophthalmologists and others. I was at Johns Hopkins and very lucky to be because I had some of the best doctors in the country. What really struck me, though, was that each specialist was really very narrowly focused and really ne'er the twain did meet. I felt like it was up to me to put the pieces together into some kind of sensible picture in order to move forward to greater health. I will note that, for the most part, they had great bedside manner."
Rhonda Wyskiel, an ICU nurse and staff member with the Armstrong Institute, was one of the guests on The Kojo Nnamdi Show last week when the radio host read these words from an e-mail, penned by a woman named Anne. Rhonda, one of three guests who appeared on the NPR-affiliated program to discuss the challenges of providing patient-centered care, acknowledged that this writer's experience was common, and she empathized with Anne. As Rhonda pointed out, there are efforts at the hospital and national level to better coordinate care so that patients can have a central contact for when they have questions. For instance, in some ICUs, there is an intensivist who coordinates a patient's care in that environment.
But Anne points out a problem that eats away at the quality of care that hospitals provide and leaves patients feeling confused: Too often, care is organized around providers rather than patients.
Too often, patients do not participate in their care. We clinicians make rounds talking about them rather than with them, and these patients leave the hospital not understanding their disease, not knowing how to care for themselves and not scheduling a follow-up visit.
Yet this is not because clinicians do not care.  We care deeply. We have profound individual accountability. This individualism worked well when physicians made house calls and the therapies that they employed fit into a black bag. But it doesn't work well in delivering complex therapies that require a care team.
Most patients require care from multiple clinicians across multiple settings. Yet too often clinicians are blind to the broader system. At a morbidity and mortality conference in which physicians were reviewing an adverse event, a physician was asked what he would do different next time. The response: "I will try harder." There was no consideration of the systemic issues that had helped produce the event.
No doubt this physician and all clinicians care deeply. They are system blind. Their world is themselves and the patient. As a result, other clinicians are often viewed as the enemy, as if we are battling each other. Nurses often feel they "protect" patients from doctors, and one type of doctor feels the need to protect patients from other doctors. Clinicians are most often a team in name only.
The recent discussion on The Kojo Nnamdi Show powerfully illustrates how patients often feel lost navigating this complex system. Yet we are starting to see breathtaking examples of patient- and family-centered care.
On some hospital units, for example, patients now routinely participate on rounds, make their own goals and plan their day with the care team.
Patients' needs are being met, and their pain is being better controlled.
Patients are leaving the hospital with a better understanding of their diseases, the treatments they are to take, the risks they should watch out for and the follow-up that is planned. For example, patients now use "teach back" in which they describe their disease in their own words, state what medicines they will take and when, and say what their follow up care plan is. A pharmacist meets with patients to ensure they understand their medicine and how to take them.
These efforts will no doubt improve patient satisfaction, improve safety and reduce costs.
A beautiful example of organizing care around patients is in our cancer center at Hopkins. In the past, a patient with pancreatic cancer would make multiple trips to Hopkins: one to see the oncologist, one to see the surgeon, one to the radiation oncologist, one to see the anesthesiologist for a pre-op visit. Now all these clinicians, along with pathologists, nurses, and case managers and others, come together in one clinic. The patient makes one trip, gets all their questions answered, draws upon the wisdom of the care team and leaves with a clear care plan. This is how we should be organizing care.
We would love to hear your strategies for providing patient-centered care. Send us a comment to share your story on the blog.