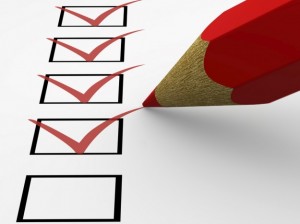 Far too many patients are harmed rather than helped from their interactions with the health care system. While reducing this harm has proven to be devilishly difficult, we have found that checklists help. Checklists help to reduce ambiguity about what to do, to prioritize what is most important, and to clarify the behaviors that are most helpful.
The use of checklists helped to reduce central-line associated bloodstream infections at The Johns Hopkins Hospital, in hospitals throughout Michigan, and now across the United States. Clinicians have begun to develop, implement and evaluate checklists for a variety of other diagnoses and procedures.
Patients can also use checklists to defend themselves against the major causes of preventable harm. Here are a few you can use:
Health care-associated infections
Ask about your hospital's rates of central-line associated bloodstream infections in the intensive care unit. The best hospitals use the definitions provided by the Centers for Disease Control and Prevention and have rates less than one infection per 1,000 catheter days. A rate above three should cause concern.
Whenever clinicians enter your room, ask if they have washed their hands. Request that visitors also wash their hands often. Washing can be with alcohol gel or soap and water.
If you have any type of catheter, ask every day if that catheter can be removed.
Identification errors

If you are admitted to the hospital, check your ID bracelet to make sure all information is correct. Staff should use this bracelet to confirm your name before any treatments or tests.
If you are making an outpatient visit, staff should ask you to confirm your name and another unique identifier, such as your date of birth, before treatments or tests.
Verify that blood and other specimens taken from your body are labeled in front of you.
Hospital falls
Ask a nurse about your fall risk level and what steps are being taken to reduce that risk.
Keep the nurse call bell, eyeglasses and other items within reach, and wear non-skid footwear.
If you need assistance walking, request help before the need to use the bathroom becomes urgent.
Venous thromboembolism (blood clots)

Ensure that you are screened by clinicians to identify your risk for blood clots.
Given your risk category, ask what treatments you should receive.
Ask every day if you are getting the treatments you should to reduce blood clots.
Communication and teamwork errors
When you enter the hospital, be familiar with what medications you are taking, your allergies, and your complete medical history.
Ask to participate in daily interdisciplinary rounds.
If you are confused about something regarding your treatment, ask for a "bedside huddle" with the care team to make sure they come to you to address your concerns.
Ensure you will be able to care for yourself when you leave the hospital by reading back your discharge plan and ensuring that you know:

Your treatment
What risks to watch out for and what to do if they occur
Follow-up instructions— Which provider you should visit, how soon, and when this provider will receive the records from your hospital stay
To help reduce harm, clinicians must partner with patients and families.  Patients can use this checklist, as well as the information and tools listed below, to help keep them safe.