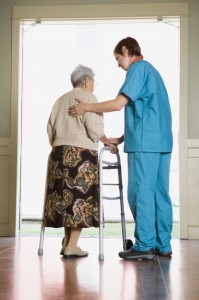 With all the changes taking place in the health care industry today, there's no shortage of topics to debate.
With this in mind, about a year ago The Wall Street Journal launched an online forum called "The Experts". The format is simple. Each month a roundtable of health care leaders each share their thoughts on a wide spread of issues, opening the door for a lively conversation with readers. Past questions have ranged from how physicians should be paid to what role the government should play in combating public health problems like obesity.
One recent topic I had the privilege to share my perspective on struck me as especially important and personal because it impacts us all at some point in our lives: end-of-life care.
Although most patients want to live as long and as well as they can and then die at home quietly among their loved ones, that often doesn't happen. Instead, many receive heroic measures until the end. As a result, our country spends a staggering amount on health care delivered in the last year of life.
One simple way that we can improve end-of-care is by having a more open dialogue about the wishes of our loved ones and sharing that with their medical team. Talking about death is difficult, but it's important to ensure we preserve dignity and prevent costly unneeded care.
Here are a few questions to consider when you or someone you love is seriously ill.
Do you have a will?
Do you have a living will? What does it say about CPR?
Who do you want to make medical decisions, if you can't? Have you discussed this with her/him?
Are there spiritual issues to be settled?
Are there family issues to be settled?
Are there financial issues to be settled?
Have you met with hospice yet? (Plan for at least three to six months before death, which for most diseases is predictable. This really helps the transition if and when hospice is needed.)
Have you thought about where you would like to be for your death, if and when?
Let's start doing a life review – what you want people to remember about you? And, what's important to you? What do you want to accomplish in the time you have?
Check out what the other experts had to say about the cost of end-of-life care.