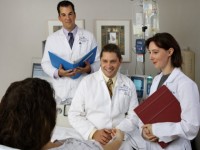 "I have a complicated medical situation that involves neurologists, surgeons, obstetricians, specialized ophthalmologists and others. I was at Johns Hopkins and very lucky to be because I had some of the best doctors in the country. What really struck me, though, was that each specialist was really very narrowly focused and really ne'er the twain did meet. I felt like it was up to me to put the pieces together into some kind of sensible picture in order to move forward to greater health. I will note that, for the most part, they had great bedside manner."
Rhonda Wyskiel, an ICU nurse and staff member with the Armstrong Institute, was one of the guests on The Kojo Nnamdi Show last week when the radio host read these words from an e-mail, penned by a woman named Anne. Rhonda, one of three guests who appeared on the NPR-affiliated program to discuss the challenges of providing patient-centered care, acknowledged that this writer's experience was common, and she empathized with Anne. As Rhonda pointed out, there are efforts at the hospital and national level to better coordinate care so that patients can have a central contact for when they have questions. For instance, in some ICUs, there is an intensivist who coordinates a patient's care in that environment.
But Anne points out a problem that eats away at the quality of care that hospitals provide and leaves patients feeling confused: Too often, care is organized around providers rather than patients.