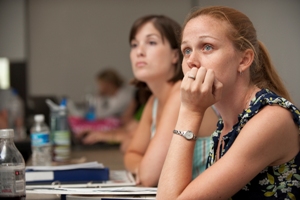 I recently gave a talk to the American Medical Student Association. The energy in the room was palpable. The students were excited, passionate and hopeful. We spoke about the urgent need to reduce preventable harm and to enhance value, and we discussed that they will need to be the ones to lead these efforts.
Yet, in speaking with them, I had to confront the sad reality that most of them will graduate ill-prepared to lead the improvements of quality and safety our health care system needs. They no doubt will know chemistry, biology and physiology, but they may not know about human factors, implementation science or performance measurement—the language of quality improvement. They will know orthopedics and genetics but they won't know teamwork and systems engineering. They likely know about German scientist Rudolph Virchow, the father of cell theory, yet they do not know John Kotter, the father of change theory whose model for leading change is highly effective and widely used. Without a doubt, these students will need to lead change.
If we are going to make progress in safety, we have to ensure we train a workforce to head up these efforts. Health care is moving in this direction. Many medical schools now teach patient safety, though on average just four hours is devoted to the subject, and residencies require training in systems-based practice. While this is encouraging, it is unlikely that these efforts go deep enough to ensure that clinicians can lead the needed changes in our health care system. Just as science guides training in basic science and clinical medicine, science also needs to guide training in health delivery science. As part of the Armstrong Institute at Johns Hopkins Medicine, we're developing a training program for working clinicians and clinical leaders that has a hierarchy of skills and competencies.
Our goal is to ensure that all clinicians have a basic understanding of the science of patient safety, provide patient- and family-centered care, practice teamwork and deliver clinical excellence. Unit-level safety leaders require greater skills—such as understanding how to identify and learn from mistakes, implementing programs that are proven to reduce harm, and using performance improvement methods, including Lean Sigma. Departmental and hospital leaders need the skills of unit-level leaders, yet they also need skills to design, implement and evaluate interventions. These measurement skills are essential if we are to know whether patient outcomes are actually improving. The safety leaders also need skills in human factors and systems engineering and leading change.
We do not know of a health care organization that has this type of robust infrastructure for improving quality and safety. If health care is to reduce harm, it will need to develop a skilled workforce, with time devoted to improving safety and with clear responsibilities for doing so. The Armstrong Institute, in conjunction with the Johns Hopkins Bloomberg School of Public Health, is developing such a training program for clinicians, for unit leaders, and for department and hospital leaders. These training programs will also be available to people outside of Hopkins.
We have learned over the last decade that quick fixes won't improve patient safety. Just as in every other area of medicine, science must guide the way. This is a new science, a science that most medical schools and nursing schools still do not teach. We need to take the enthusiasm we see in our future doctors and nurses and channel that energy into producing a workforce that is not only trained to improve safety, but truly embraces the goal of finding the best ways to prevent patient harm, optimize clinical and patient-reported outcomes, and enhance value.