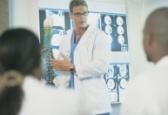 Nearly a year ago, one of my blog posts bemoaned a gap in our training of future physicians—a lack of training in the skills needed to lead projects in patient safety and quality improvement.
I wrote the post after speaking to a group of medical students who were energized about this area of work. Yet, as I reflected on the talk:
"I had to confront the sad reality that most of them will graduate ill-prepared to lead the improvements of quality and safety our health care system needs. They no doubt will know chemistry, biology and physiology, but they may not know about human factors, implementation science or performance measurement—the language of quality improvement. They will know orthopedics and genetics but they won't know teamwork and systems engineering. They likely know about German scientist Rudolph Virchow, the father of cell theory, yet they do not know John Kotter, the father of change theory whose model for leading change is highly effective and widely used."
So how can medical students, residents and fellows make quality improvement and patient safety a focus of their clinical careers? On Nov. 10, the Armstrong Institute and the American College of Medical Quality will be hosting the National Workshop on Quality for Medical Education—affordable and open to anyone—that focuses on how medical students, residents and fellows can integrate safety and quality into their clinical careers. What career paths exist? What tools and skills are needed to carry out this work, and where do you get them? What kinds of quality and safety projects are residents and students taking on? I'm honored to deliver one of the keynotes—one of many talks by speakers from across the country. I encourage you to attend if you have an interest in this topic or think about pursuing a career in safety. Students in various health care professions, such as public health and nursing, may find this a valuable experience, as would faculty members and physicians who teach and train the next generation of clinicians.
A one-day conference won't change the realities I wrote about a year ago, but it's a step in the right direction. At Hopkins Medicine we're finding other ways to get young physicians grounded in safety and quality work. This past summer, we launched the Armstrong Institute Resident Scholars program—a one-year elective fellowship to train future physician leaders who can bridge systems to improve safety and quality. Sixteen residents are part of the first cohort. Hopkins Hospital also launched a Housestaff Patient Safety and Quality Council, which gives residents a leadership role in improving quality. The council helps lead hospital-wide projects, assists in creating the hospital's quality and safety plan, and serves as a voice for residents on related issues.
We hope that these and other steps will help foster a cadre of clinicians who champion quality and safety and give us the critical mass needed to drastically reduce errors, improve patient outcomes and prevent wasted health care spending.