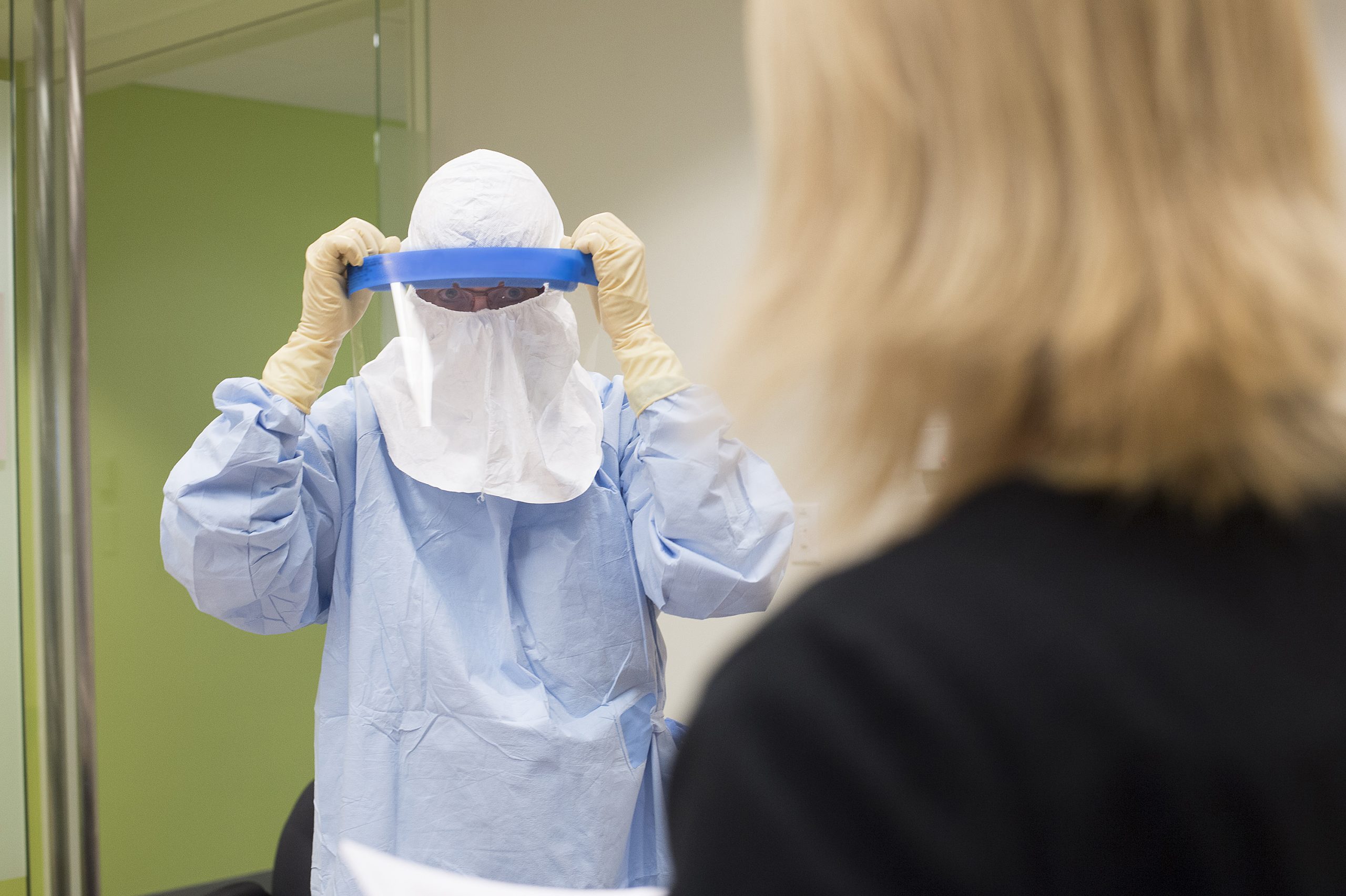 Your body is covered from head to toe in protective equipment, and it's 115 degrees Fahrenheit inside your outfit. Your hands sweat under two pairs of gloves. An ill-fitting hood creeps down your forehead and nearly covers your eyes, but you cannot touch your head to shift it back up. To top it off, the exterior of your protective garb is partially covered with bodily fluids from a patient with Ebola.
The time comes to leave the patient's room without leaving a trace of the virus on you or carrying it outside the room. You are anxious and tired but careful to follow infection-control protocols as you remove a disposable face shield, hood, mask, booties and other garb. Yet as you do, a piece of hair falls down over your eyes. In a split second and without thinking, you brush it back, and an infected glove glances across a misty eye. The virus is in you.
In a health care world where infection control methods are part of daily practice, Ebola requires a new level of vigilance. Even scrupulous health care providers could get infected without the proper training and support on how to put on and take off personal protective equipment, or PPE.
The new Ebola protection guidelines for PPE use issued this month by the U.S. Centers for Disease Control and Prevention are a critical step in protecting patients, health care professionals and populations in the United States and abroad. Highlights of these new guidelines include leaving no skin exposed and requiring a trained observer to actively help the health care provider to follow the protocols for donning and removing their protective equipment. Because there is very little that one can do to prevent infection after exposure to this unforgiving virus, it is essential that clinicians know this guidance inside and out, become competent in putting on and removing PPE and have a "buddy" to coach them to ensure that they adhere to each and every step.
But like many clinical guidelines, following them is like following the directions for assembling an IKEA chair. They need to be translated into something that providers can easily absorb, that points out the most important steps and provides guidance for implementing them in real time, under real-world constraints. We need to create systems that help health care workers to follow these guidelines, and clinicians need to practice until they are competent. Health care workers also need to know how to respond in those instances when something doesn't go according to plan.
With that in mind, the CDC asked the Johns Hopkins' Armstrong Institute for Patient Safety and Quality to convene a team to produce a series of interactive, online training programs on following the new PPE guidelines. Released this afternoon, the videos provide guidance for putting on and removing PPE and allow users to select training specific to the type of respirator and body covering that they will be wearing. Another video module, which guides trained observers on how to be effective in their roles, will be available in days. The free course will also be available on iTunes U.Read More »New Ebola Training Modules Will Help Safeguard Patients, Providers, and the Public